Business Law in Oklahoma
We assist business clients with their legal needs. These include litigation, employee matters, personnel policies and procedures, transactions, business formations and dissolutions, contract formation and negotiation, and creditor issues. We have represented many businesses with legal issues and management questions. Some of the fields we have served include Service Industries, Materials, Consumer Goods, Retail, Industrial Goods, Technology, and Healthcare Fields including, but not limited to:
We enjoy business consultation, management, negotiation, legal issues, strategizing, technology and marketing. Ms. Cinocca has an M.B.A. received prior to her law school degree and a fondness for business and corporate matters. She has a broad range of experience in every facet of business operations, accounting, management, human resources and legal compliance issues that acquiring pertinent knowledge is simple.
Many entrepreneurs are interested in the subject of business law and how to start a business, so we have made an informational blog as a public service to help those just getting started. For companies operational and established, we assist with legal matters and the proper formulation of company policies and procedures. Some information is here. We represent serious business entrepreneurs and established businesses, as well as individuals.
Many of our business clients are in the process of splitting their business with a soon-to-be former partner or partners. If you are such a person or company, our informational video below with transcript on "Ending Your Business Partnership" will help you get started on the process and establish your expectations. Please review this and if you have such a matter, contact us on that with any others.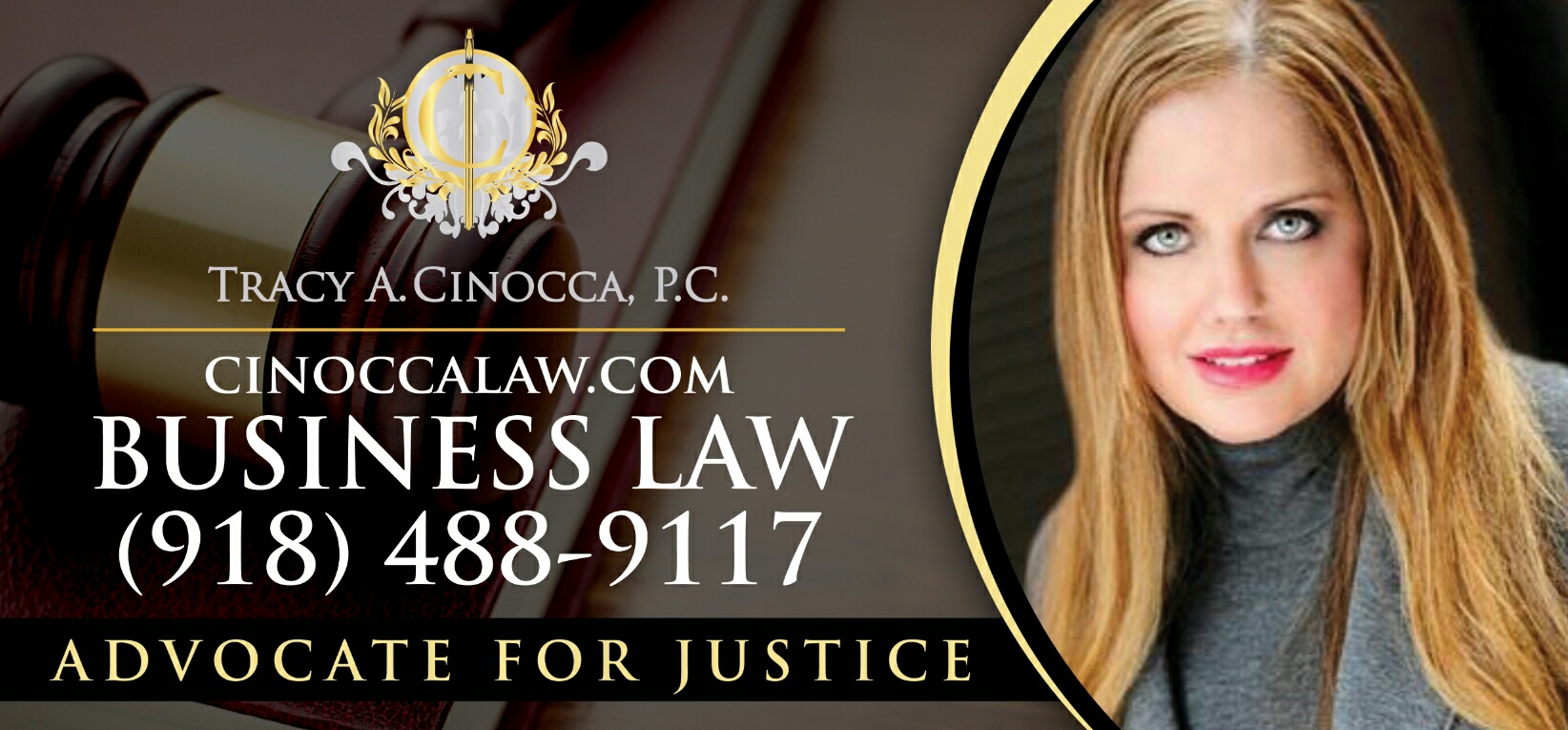 Human Resources & Employment Law
Ms. Cinocca manages, investigates and litigates if necessary, serious discrimination cases and retaliation cases only. These cases usually involve long term employees or cases with direct evidence. We realize that many people have claims with merit, regardless of whether we are able to take that case or not. For would be clients or anyone experiencing work problems, we have prepared this video to help you prepare your issues with your employer for discussion with an attorney. If you would like to schedule a consultation with us, please also complete the EEOC Initial Intake Worksheet for Discussion Purposes. It requests pertinent information and will help you organize your thoughts, learning what information is of particular initial importance. If your case is already pending with the EEOC or Oklahoma Civil Rights Enforcement Division of the Oklahoma Attorney General's Office provide us with those documents to consider your case.
SUMMARY TO-DO LIST
List & Document Your Adverse Actions By Date
Acquire Your Employee Handbook, Company Policies, Emails & Pertinent Documents
Schedule an Attorney Consultation with Us by Phone
Please contact Tracy A. Cinocca P.C., if you have any questions or call (918) 488-9117