Information to Be Provided to the Other Spouse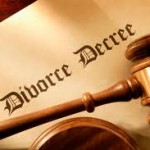 Not only during your divorce action, will you be required to repeatedly complete budgets and provide financial documentation, but you will also be allowed to ask questions to your soon to be ex-spouse. These written discovery requests are called Interrogatories, Requests for Production of Documents or Things and, sometimes Requests for Admission are sent. However, it is usually well before this stage that some judicial districts require other disclosures as well. You should consult to check with an attorney on local rules, however, in Tulsa County or the 14th Judicial District which serves Tulsa and Pawnee Counties. The current Rule is called "DR 5." It is Domestic Court Rule 5, and it states:
RULE DR 5. Discovery
1. Within twenty (20) days of the date of service of summons or no later than 48 hours before the temporary order hearing, whichever is earlier, both parties shall exchange copies of the following documents:
a. An accurate and provable statement of the parties' gross monthly income supported by the preceding month's payroll checks and check stubs and evidence of all income received from all sources within ninety (90) days prior to the date of service;
b. complete tax returns for three (3) years prior to date of service;
c. an accurate and provable statement of monthly employment- related child care expenses;
d. evidence of medical insurance coverage and premium cost;
e. an accurate and provable list of all marital debts, stating the purpose of the debt and the amount of monthly payments for all existing debts and obligations; and
f. an accurate and provable list of monthly living expenses.
2. All additional discovery shall be commenced within forty-five (45) days of the date of service of summons or notice of hearing, absent agreement of the parties or an order of the Court.
Please make sure you have these documents gathered for your attorney at your first meeting if at all possible. [contact-form][contact-field label='Name' type='name' required='1'/][contact-field label='Email' type='email' required='1'/][contact-field label='Website' type='url'/][contact-field label='Comment' type='textarea' required='1'/][/contact-form]