Wedding Bells & Pre-Nuptial Agreements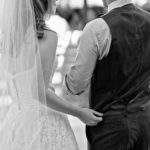 It's that time of year! June Weddings! So much goes into a person's decision about whom to make their spouse (or ought to, at least!). For those interested in a forever-marriage, a pre-nuptial agreement should be seriously considered. The coordinated process to complete a pre-nuptial agreement, encourages frank communication. Each person's values and expectations can be further explored, including what each expects if things go wrong.
December weddings are on the rise, but June is consistently the most traditional. Marriages are occurring at a rate of 7% per 1,000 total population (CDC). Specifically within Oklahoma, the rate of marriage licenses being issued has been above 7% since 2005; however, at the same time, the divorce rate is fluctuating between 4-5%. To put that in a different perspective for 2013 Oklahoma issued 27,275 marriage licenses, and issued 17,727 divorce decrees (Oklahoma State Department of Health). A person should not just plan their wedding, but plan their marriage, too. This hold true even when life is so uncertain. Think about life contingencies with a dose of future flexibility.
Pre-nuptial agreements aren't just for the "rich and famous." As the notion of marriage has switched from romantic to realistic, pre-nuptial agreements are more common. They are a tool for your new life partner. You should begin the process months before your marriage! Don't wait until 4-6 weeks before your Big Day! Drafts take attorney's time, just like it will you to acquire information and your fiancee to review it. Meaningful meaningful discussion occurs about your new life together in this structured format. It can eliminate stress, shape proper expectations and increase marital satisfaction.
For your first attorney consultation, be prepared to talk about your financial situation and that of your soon-to-be-spouse. Include your budget (already prepared if you can) and a list of issues with children, business ownership, trusts and/or inheritance issues. You should also be prepared to discuss expectations about the duties of each soon-to-be spouse. For, example will both parties work, or one stay at home? Issues with current and possible future children should be brought forth.  Health and retirement issues should be addressed. Acquisition of documents in support of your income, debts and assets is required for full disclosure. If full disclosure is waived, the agreement could be more difficult to enforce.
The pre-nuptial agreement needs to be clear both attorneys were represented and were presented with all supporting documents with ample time to review them and ask questions. This is why you must start more than two months early, if you want your pre-nuptial agreement completed properly to promote meaningful discussions and highly enforceable agreements.
Lawyer-to-lawyer and fiancée- to fiancé communication is preferred. Communication, sharing of information and full disclosure are important aspects of an authentic healthy relationship. It is more than appropriate, no matter how awkward, to discuss you want if the relationship fails. Be ready to discuss that, but also trusting partners can have some fun with it. "What If" scenario role-playing with your fiancee, can increase intimacy as well as set proper expectations.
Standard Clauses for Inclusion
A pre-nuptial agreement, just like a divorce, is heavily focused on the division of assets, income and debts. A "Mutual Disclosure of Assets, Income & Liabilities" should occur. This includes not just assets, income, debts, and liabilities, but also future employment and education disclosures. Other discussion topics are: 1. Future anticipated income; 2. Future business prospects; 3. Anticipated Gifts; 4. Inheritance Probabilities; 5. Uncertain or Anticipated Decline in Income or Assets; 6. Retirement; 7. Insurance; 8. Estate Planning; and 9. Future Support Obligations. When the parties already have children or if they plan to have them additional issues include: 1. Transfers to the Children and/or Grand Children; 2. Educational Costs; and 3. Any Other Special Needs of Children or Family Members. Discussions about the marital budget and wealth building is a financially wise issue to discuss before marriage.
Not all issues you may discuss before marriage may be enforceable when written. State laws differ. However, the scope of rights enforceable are usually only those pertaining to income or assets upon divorce or death. This applies to the division of assets and debts, with which the courts are equipped to handle. Child custody, visitation and support agreements are typically not as enforceable and cannot be guaranteed. That does not mean it should not be discussed and perhaps committed to writing through attorneys.  A clause as to sever-ability, which is, if any portion of the agreement is held invalid for any reason, it should be severed from the rest of the agreement so that the remaining portions are enforceable is standard. Other issues may be addressed as well, but that does not mean mean they are enforceable or should even be committed to writing. Clear communication with your fiancee personally, with a pre-marital counselor or clergy, and through counsel help avoid marriage mistakes and promote marital longevity. Make sure before your marriage you can communicate on hard issues before relationship problems and stress arise.
For additional resources, Barbers & Bartz have an excellent paper on Keeping Separate Property, Separate and an example prenup can be found here. Another good reference is Katherine Saunders of the Oklahoma Bar Association's paper on Estate Planning Prior to, During and After Marital Dissolution.
Resources:
The Knot. (2016). Wedding Details: Are There Off-Season Wedding Months? Retrieved from https://www.theknot.com/content/is-there-an-off-season-for-weddings
Gary N.Skoloff, Richard H. Singer, & Ronald L. Brown. (2005). Drafting Prenuptial Agreements. New York, NY: Aspen Publishing
Centers for Disease Control and Prevention. (2015, Nov. 23). National Marriage and Divorce Rate Trends. Retrieved from http://www.cdc.gov/nchs/nvss/marriage_divorce_tables.htm.
Oklahoma State Department of Health. (2016). Vital Statistics Data and Reports: Births, Deaths, Marriages and Divorces. Retrieved from https://www.ok.gov/health/Data_and_ Statistics/Center_For_Health_Statistics/Health_Care_Information/Vital_Statistics/Vital_Statistics_Data_and_Reports/